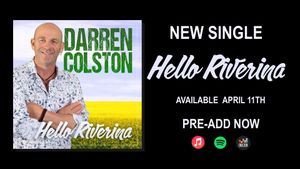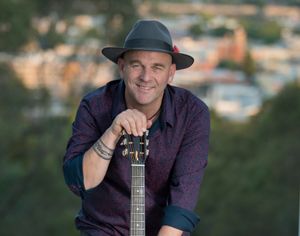 "

… all the judges recognised his special song writing talents and enormous potential … I told him after his first Star Maker appearance that he could be another Paul Kelly and I stand by my words today"
— Deniese Morrison, Starmaker Judge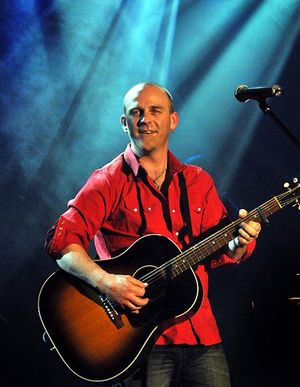 Promo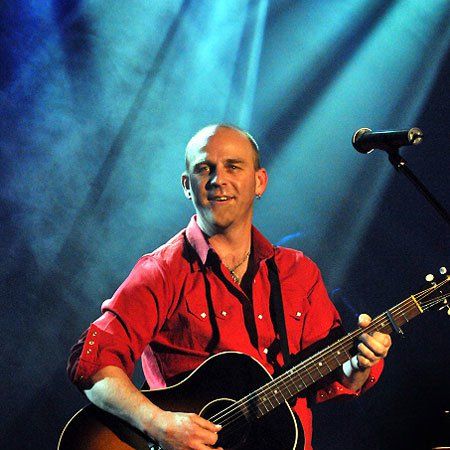 They call Darren Colston a "Troubadour". A gifted singer/songwriter with a unique talent for taking stories and injecting them straight into the heart of his audience.  
Darren has several awards to his name including the Tamworth Independent Artists Male Vocalist of the Year. He has also penned and performed several charting singles: including the top 5 hit duet with Victoria Baillie, "Will You Stay" and the Golden Guitar nominated song "The Boundary Rider".
Darren is a truly exceptional vocalist and fine guitarist whose songs "reflect love and life in Australia". After navigating some hurdles which made him take some time out, Darren has found his voice again and he has sharpened his pencil, returning with his new song, "I Saw You Smile Today".
Darren Colston is back!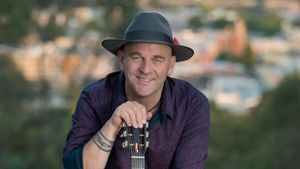 Song Lyrics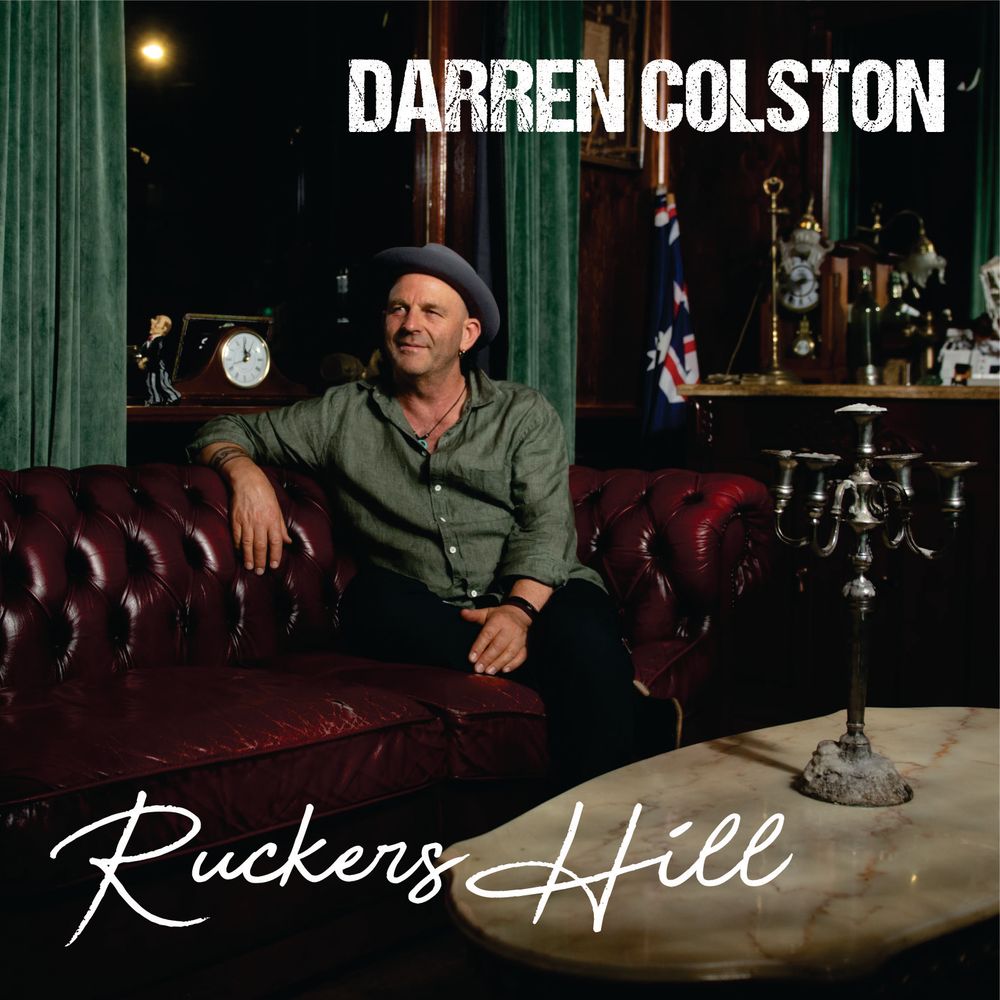 Songs from the album
Ruckers Hill
1 Old Town
2 Hello Riverina
3 Ruckers Hill
4 Things, People, Places
5 Nothing I Can Do
6 I let The Bottle Do The Lying
7 The Mother
8 Call It Australia
9 The Lantern
10 What Happened To Dreams
11 I saw You Smile Today
1  Old Town 
written by Darren Colston 
In a pub above the juke box – Is where my bed would be 
There started my adventure- With the music playing free 
And this pretty girl beside me-  She'd kinda welcomed me to town 
She showed me things I'd never seen- really showed this boy around – Yeah 
We sat on that verandah- Looking down on Eastern Street 
Watching cars lap top to bottom- While we sweltered in the heat 
We chanced some physical encounters- Laughing free without a care 
As the cars went by below us- never knowing we were there 
In that old town 
I wonder if she's still around 
In that old town 
Two lovers , One Summer in that old town 
So much that quickly happened- Like the boy we couldn't save 
Coles burning down at midnight- Picnics out at Graham's Grave 
I led the rodeo up Main Street- Went on telly singin' songs 
Had my first of few hangovers- And boy that day was long 
Br ## 
And there beside the juke box was the first time that I sang 
With that pretty girl beside me- Who turned this boy into a man ## 
In that old town 
I wonder if she's still around 
In that old town 
Two lovers , One Summer in that old town 
That old building is still standing- But no longer serving beers 
The licence went to Sydney- In the big Olympic year 
The bar's gone with the juke box- There's no music there's no noise 
By day a second hand shop- Selling pre-loved clothes and toys 
In that old town 
I wonder if she's still around 
In that old town 
Two lovers , One Summer in that old town 
I wonder if she's still around 
In that old town 
Two lovers , One Summer in that old town
2  Hello Riverina 
Written by Darren Colston 
Hello Riverina- It's a long time since I've seen ya 
With your hills of gold canola - glowing in the sun 
Where the Murrumbidgee's playin'- through the river gum trees swayin' 
On a breeze that's come to tell us- a new season has begun 
CH //   Ooh Ooh Ooh ooh Ooh 
             Your song is in my bones 
             Ooh ooh ooh ooh ooh 
             Hello Riverina I've come home // 
The roads that lie before me- take me to a thousand stories 
Some remembered some forgotten- Some yet to be made 
Shed my boots down by The Murray- Old Man's never in a hurry 
Tip a can and ponder life- By a willow in the shade 
CH //   Ooh Ooh Ooh ooh Ooh 
             Your song is in my bones 
CH //   Ooh Ooh Ooh ooh Ooh 
             Your song is in my bones 
             Ooh ooh ooh ooh ooh 
             Hello Riverina I've come home // 
## Bridge ## 
Restless dreams- They keep my wheels a rollin' 
But back they'll turn- You know they always do…..to you  ## 
Hello Riverina- it's a long time since I've seen ya 
With your hills of gold canola- Glowing in the sun 
I can feel you like a mother- A sister and a brother 
May my ashes fall upon you- When my dreaming days are done 
CH //   Ooh Ooh Ooh ooh Ooh 
             Your song is in my bones 
             Ooh ooh ooh ooh ooh 
             Hello Riverina I've come home 
             I've come home 
             Hello Riverina I've come home //
3  Ruckers Hill 
Written by Darren colston 
I could hear the old trams rolling by 
Looking over town through a young boy's eye 
Pointing out the window gave her pride 
This little boy in wonder, by her side 
Showed me different things across her town 
There were always new ones to be found 
Every story made her come alive 
This little boy in wonder, by her side 
(Chorus) 
// I could see the whole damn city -Every light burning Oh so pretty 
From her top-floor windowsill - And I bet she lingers still 
On Ruckers Hill- Ruckers Hill-  Looking down from Ruckers Hill 
Ruckers Hill- Ruckers Hill- By the church on Ruckers Hill 
On High Street // 
There's the shrine where we stand- remember them 
See the waves in the bay just now and then 
To the junction where Coca Cola stood 
And the black and white- It's the good old Collingwood 
//Chorus// 
Solo 
Sixty years she made that place her home 
Lived her life on terms that were her own 
Never left until her final ride 
Old Ruckers Hill was with her when she died 
// YOU could see the whole damn city -Every light burning Oh so pretty 
From her top-floor windowsill - And I bet she lingers still 
On Ruckers Hill- Ruckers Hill-  Looking down from Ruckers Hill 
Ruckers Hill- Ruckers Hill- She'll be there on Ruckers Hill 
Ruckers Hill - Ruckers Hill -Looking down from Ruckers Hill 
Ruckers Hill- Ruckers Hill- By the church on Ruckers Hill 
On High Street //
4  Things People Places 
written by Darren Colston 
Just let it go she said- So you might grow she said 
I didn't know that I was tied up to the railing 
Nothing to show for recent years of heavy sailing 
Break off the ties that bind- It's time to rise and shine 
I know the size of the world's a little daunting 
Each time you rise you only see what's disappointing 
Things People Places 
You're bound by old and worn-out laces 
They won't let you be until you open up your spaces 
To new things people places 
The past can not be changed- Erased or rearranged 
The ones you love will love you still- That's for certain 
But there's another window just behind the curtain 
So much you have to give- A life that wants to live 
The south will always be your friend as you go northward 
But in no small way you will mend as you go forward 
Things People Places 
You're bound by old and worn-out laces 
They won't let you be until you open up your spaces 
To new things people places 
Things People Places 
You're bound by old and worn-out laces 
They won't let you be until you open up your spaces 
To new things people places 
Things People Places 
Things People Places
5  Nothing I Can Do 
Written by Darren Colston 
I can't just pretend- That I can't see the end 
And I'm twelve or thirteen different shades of blue 
But there's nothing I can do about you 
Forget the plans we said- Tear up the page instead 
And I'll grieve the dreams that will never come true 
Coz there's nothing I can do about you 
I thought we had it down- The sweetest place I'd found 
But you closed the curtain, took away my view 
And there's nothing I can do about you 
You've been in my soul forever 
And we'd finally come together 
Bust something's broke I s'pose 
Coz you won't hold me close 
And you don't want it to get better 
Now I can't find my peace- Alone and walking these streets 
And I'm cursing lovers as they go by two-by-two 
Coz there's nothing I can do about you 
I can't just pretend- That I can't see the end 
And I'll grieve the dreams that will never come true 
Coz there's nothing I can do 
And there's nothing I won't do 
But there's nothing I can do about you 
No there's nothing I can do about you
6  I Let The Bottle Do The Lying 
written by Darren Colston 
I cracked some demons on the head with a Jim Beam bottle 
But they always come to seek revenge on me 
Yeah I've tried to immunise the ills I'm hidin' 
But they're slowly building their immunity 
Oh I danced a thousand times with all the devils 
Despite knowing I was setting up to fall 
Like a teacher redelivering the lesson 
But I never seem to learn too much at all 
When I hear that little boy cryin' 
Walking lost within my soul 
I let the bottle do the lyin' for me 
Coz that's the thing I can control 
Well I lose the war of words with my opponent 
Then I realise I'm talkin' to myself 
So the doctor in me looks for medication 
As I lift another bottle from the shelf 
When I hear that little boy cryin' 
Walking lost within my soul 
I let the bottle do the lyin' for me 
Coz that's the thing I can control 
Solo 
When I hear that little boy cryin' 
Walking lost within my soul 
I let the bottle do the lyin' for me 
Coz that's the thing I can control 
I cracked some demons on the head with a Jim Beam bottle 
But they always come to seek revenge on me 
Yeah I've tried to immunise the ills I'm hidin' 
But they're slowly building their immunity
7  The Mother 
written by Darren Colston 
I am the winter wind- Come to take you down 
And I've travelled wide and far 
I'm looking for you- I know that you're around 
And I'll find you where you are 
Listen to me blow 
Can you hear me blow off the mountain 
I am the winter wind- Come to take you down 
And I'll find you where you are 
I am the water- I am the driving rain 
And I give but I can take 
I'll break the rivers- And carry you away 
Then maybe you will wake 
Listen to me flow 
Can you see me flow through your front door 
I am the water- I am the driving rain 
Yeah I think it's time to take 
(solo) 
I am the summer heat- Growing year by year 
I'm set and going higher 
I am the teacher- of lessons you should fear 
And the class today is fire 
Do you see me glow 
Come watch me glow from (in) the embers 
I am the summer heat- The teacher you should hear 
And I'm gonna burn you… 
I am The Mother- The earth the wind the fire 
Are you listening to me
8  Call It Australia 
Written by Darren Colston 
It's the changing of the landscape- Through fits of summer rain 
It's the hope of better weather- On land you just can't tame 
It's snow atop the mountains- It's the grasses on the plains 
It's the red dirt of The Alice- By the West Macdonnnel Range 
Call it Australia 
It's the loose and leaning fences- In the shifting desert sands 
It's the lowing of the cattle- On beef and dairy land 
It's galahs a billion squawking- It's the creaking river gums 
It's four-by-fours exploring- Old forgotten cattle runs 
Call it Australia 
call it Australia 
It's the man who learned his dreaming- From pictures on the rocks 
It's the woman and her family- Who descend from convict stock 
It's the one who built the Snowy- When to Europe we said please 
The depressed and the downtrodden-Who reached out from on their knees 
Call it Australia 
Call it Australia 
Call it Australia 
Br ## 
Where the boys are in a hurry- And the girls just make you wait 
Oh- But you ain't got no worries- Just as long as you've got mates ## 
It's the stars that fill the night sky- Barely leaving room for black 
It's the sheds all full of shearers- It's an opal miner's shack 
It's potholes in the blacktop- On roads that never end 
It's fishing from a tinny- By a willow on the bend 
Call it Australia- Call it Australia 
Call it Australia- Call it Australia 
It's all of this together- All of this and so much more
9  The Lantern 
Written by Darren Colston 
I am the lantern for the people in my street 
I don't do the dancin' - I just light the dancer's feet 
This rock of ages- This town I call my home 
Is stuck in the pages of a journey not my own 
Something's very different- something's going down 
And I don't seem to recognise the people in this town 
I see them walking as they drag their ball and chain 
Nobody's talking 'bout the market or the rain 
Not like we used to when we'd all come out to play 
No one refused you- No one looked the other way 
Something's very different- something's going down 
And I don't seem to recognise the people in this town 
# It's true we've had our share of good times 
And we've held together in some bad 
But this here somethin' is like no time …we've ever had # 
The restless slumber- The collective captured breath 
No caller number to identify the threat 
I look around me but I seem to lose my sight 
A dimming surrounds me that a lantern just can't light 
Something's very different- something's going down 
And I don't seem to recognise the people in this town 
Something's very different- something's going down 
And I don't seem to recognise the people in this town
10  What Happened To Dreams 
written by Darren Colston 
Once there was fire 
Now this world feels so cold 
And I can't help feeling I've lost 
And it's time to get old 
I used to now love 
Knew that somebody cared 
Now I open the door and I look 
But there's nobody there 
CH 
//  And the load's just a little too much 
      Starved of another one's touch 
      My cup runneth dry and there's no passers by 
      On this road that goes nowhere, it seems 
      I used to have dreams 
      Such beautiful dreams 
      What happened to dreams  // 
Solo 
//  I used to have dreams- such beautiful dreams 
      What happened to dreams  // 
Bridge 
# I once had a good life- I once had it all 
   But with no one to share all my dreams 
   Then my dreams have no meaning 
    No meaning at all  # 
//  And the load's just a little too much 
      Starved of another one's touch 
      My cup runneth dry and there's no passers by 
      On this road that goes nowhere, it seems 
      I used to have dreams 
      Such beautiful dreams 
      What happened to dreams  //
11  I Saw You Smile Today 
Written by Darren Colston 
I saw you smile a little smile today 
Filled the shadows in the room 
And you kinda laughed then as you walked away 
I hope to hear it more real soon 
No one can change the way it all went down 
Left you breathless on the floor 
And no one caught you before you hit the ground 
Too lost in what we were grieving for 
If I could make it better I would 
There is no magic word, no, no this ain'y Hollywood 
But I know time will heal just as it should 
A little more each day 
Life comes back to play 
I saw you smile today 
How or worlds all changed by losing one 
Some a little some much more 
No one understood the race you'd run 
Till you washed up on the shore 
Wordless hours serve to pass the day 
Coz that's the thing that gets you through 
Though only time came make the hurting fade 
We can share the load with you 
If I could make it better I would 
There is no magic word, no, no this ain'y Hollywood 
But I know time will heal just as it should 
A little more each day 
Life comes back to play 
I saw you smile today 
If I could make it better I would 
There is no magic word, no, no this ain'y Hollywood 
But I know time will heal just as it should 
A little more each day 
Life comes back to play 
I saw you smile today